Olympic Trials Preview: Super-6 London Collegiate Hopefuls
Kimberlyn Duncan, LSU, 200
Duncan may have the best shot at making the team out of any of the prospects on this list. She is undefeated at this distance and has not been beat since June 2011. Duncan has run the second- and third-fastest times in the world at 22.19 and 22.22. Her average margin of victory in her last two races is an impressive .67 seconds. With strong competition from her fellow Americans, Allyson Felix and Sanya Richards-Ross, the Hayward crowd could see something special from Duncan.
Tony McQuay, Florida, 400
McQuay will return to the scene where he made his first US team in the 400. He heads into the trials full of confidence having defeated Olympian Jeremy Wariner to win the 2011 US title. McQuay announced Monday that he will forgo his senior season after helping Florida capture its first men's outdoor team crown in school history a week ago. At the NCAA meet, he posted the third-fastest time in the world of 44.58, in winning his third national title as a Gator. Expect McQuay to challenge the defending Olympic champion and current world-leader Lashawn Merritt for the US title. Running rounds should be no problem for him; seeing as he ran 44.67 in the heats at NCAA's.


Erik Kynard, Kansas State, High jump
Kynard enters the US Trials as one of the overall favorites for victory and a trip to London. He is undefeated for the outdoor season and is the two-time NCAA champion (2011, 2012) in the high jump. Kynard's personal best of 7 feet, 8 inches - in which he recorded at the NCAA meet - is ranked No. 3 on the world list. He qualified for the 2008 Olympic Team Trials as a 17-year-old high school athlete and was a member of the World Championship team in Deagu in 2011, after placing third in last year's US Championships. Look for him to battle it out with Jesse Williams once again for the top honors.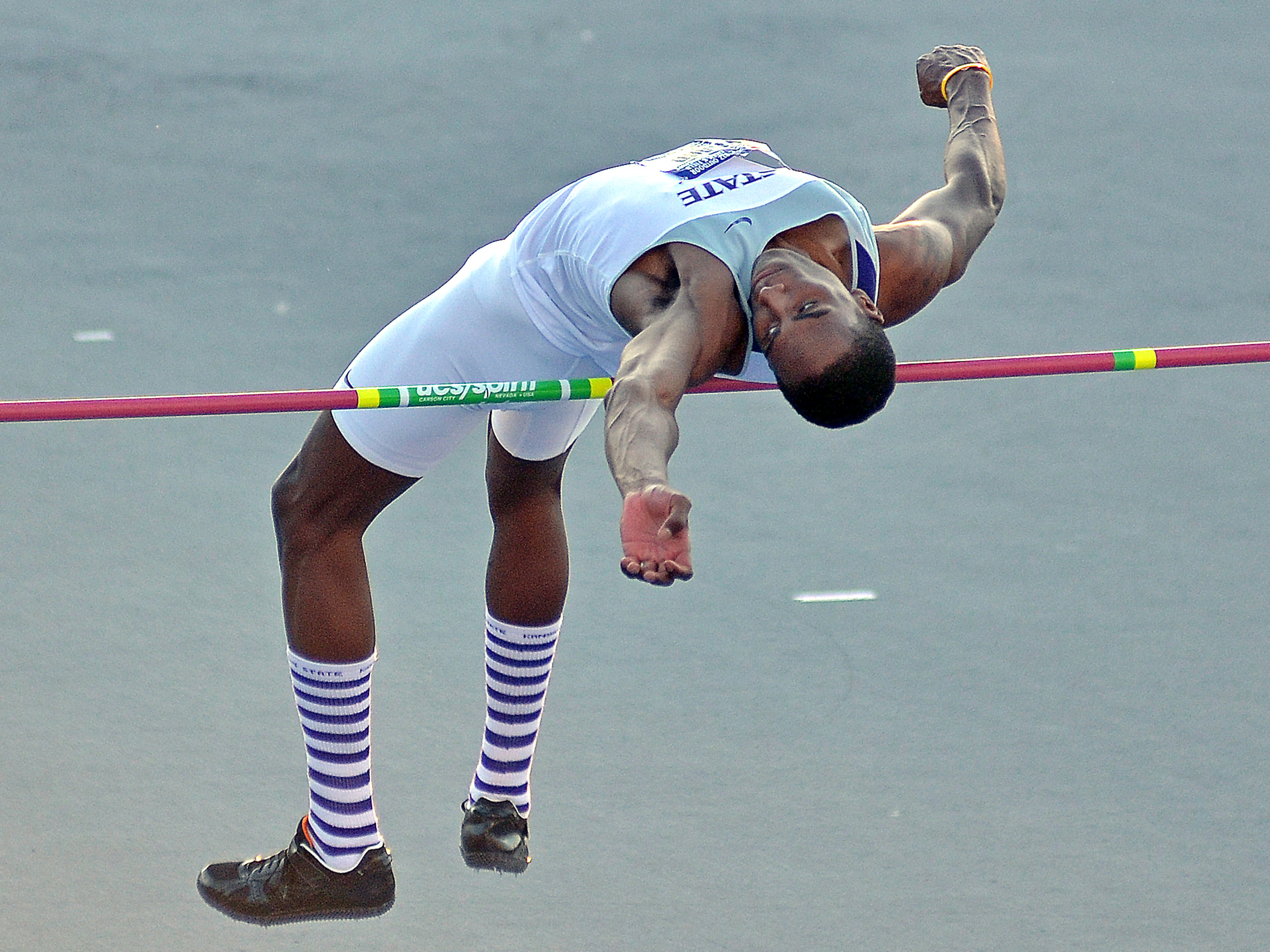 Marquise Goodwin, Texas, Long jump
Texas multi-sport athlete in Goodwin is definitely on track to make his second US team. The 2011 USA Outdoor Champion, won his second NCAA outdoor title in the long jump with a solid 27-0. Expect another battle between Goodwin and former Florida All-American Will Claye. Goodwin is very capable of leaping out to 27-5 or further, having jumped 27-4 (which is a personal best) in last year's US Championship meet. He has lengthy experience on the national and international competition levels. Goodwin was the 2008 World Junior Champion in this event.


Maurice Mitchell, Florida State, 200
Mitchell has run exceptionally well at 200 meters despite not facing stiff competition. Expect that to change in the coming week as he will face Olympians Walter Dix and Wallace Spearmon. A 2011 & 2012 NCAA Champion in this event, he has run the ninth-best time in the world this season at 20.13. But Mitchell's most impressive performance thus far may have come in the NCAA meet, where he clocked 20.44 into a monster headwind of -4.2m/s. He has shown consistency and has the ability to run three good rounds, having run under 20.3 twice in the preliminaries of the NCAA East Regional. With competition from Dix and Spearmon, Mitchell will be well on his way to a Sub-20 performance and his first Olympic berth.
Brigetta Barrett, Arizona, High jump
Barrett will be looking to make her second consecutive US team in the high jump. She was the 2011 U.S. Champion and World University Games Champion in this event. Barrett, a two-time NCAA champion, has a personal best of 6-5.50. She nearly matched her PB at the NCAA indoor meet this season with a 6-5. Her outdoor season best of 6-4 is No. 7 among high jumpers in the world. It should be yet another competitive atmosphere with Barrett and the American record holder Chaunte Lowe.